Sophisticated billing engine
Our sophisticated billing engine simplifies your client invoicing requirements, allowing you to easily invoice on top of your payroll transactions or separately. Whether your needs are simple or complex, our built-in automation ensures accuracy and frees you up.
With 2c9 Billing, our rate calculator allows you to determine bill rates for clients without the need for manual calculations. We automate the entire process so you can invoice correctly every time.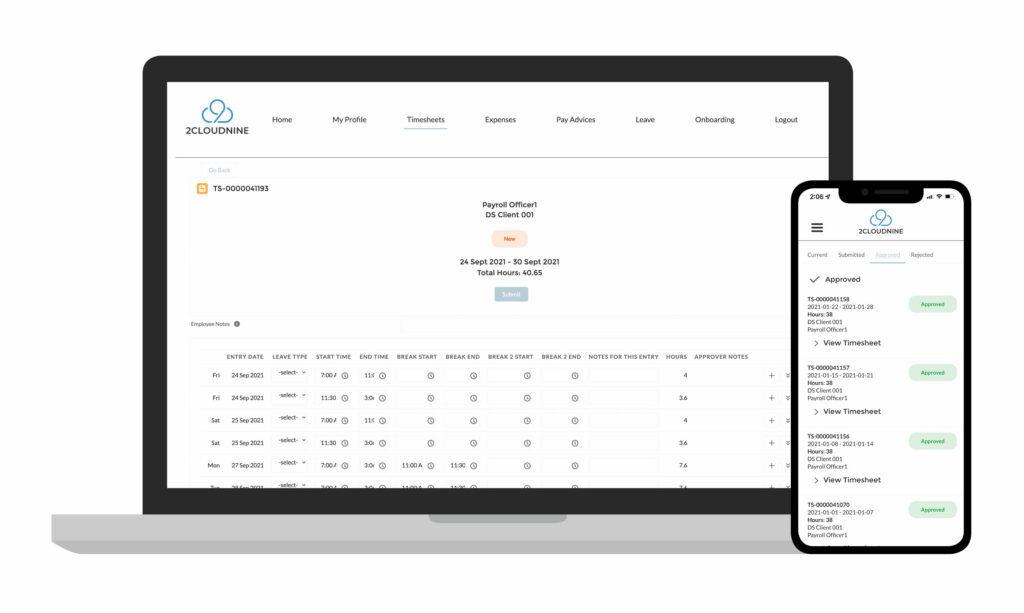 User-friendly self-service portals
Whatever your needs, 2c9 Billing offers intuitive self-service portals for employees and clients that are responsive on any device. 
Employees can manage their personal information, enter timesheets, submit expenses and allowances, manage leave and more. 
Clients can quickly and easily approve timesheets, leave, expenses and allowances on the go and in bulk, as well as assign multiple approvers and access detailed reports and dashboards.
Import timesheets from other applications
2c9 Billing easily imports timesheet data directly from third party VMS systems. Because our products are native to Salesforce, you can smoothly integrate your timesheets and manage your payroll and invoicing transactions, all while benefiting from the platform's world-class security.  
Access staffing reports, dashboards and analysis in real-time. We empower you to make smarter and faster decisions for your business, now and into the future.